Woosh.

This year's been moving fast, so far. Very fast in fact. My photographs are piling up and I'm barely on top of editing them. And very recently I've had some - to me - mildly thrilling developments in my photography. My Flickr stream has taken off somewhat in popularity. I've met a hero of mine - more on him in a minute - and I've been interviewed by a cracking street photography magazine called 'Inspired Eye' about my work - and I got the cover!
Inspired Eye is the child of Don Springer and Olivier Duong. It's a publication that showcases different photographers from around the world, unsung people who have caught the eye of the two creators. These two are pretty damn good photographers in their own right. Don shoots around his home city of Philadelphia and Olivier in New York and further afield, and both shoot in grainy black and white. They're masters of raw tonality and their work is punch-drunk with glimpses of odd beauty and strangeness. Cityscapes become inky wonderlands through their eyes. And the glossy Inspired Eye they treat with equal compositional care. Here're some sample pages...
There's been nine issues of Inspired Eye so far. I'm in number eight. Yes - I am that tardy in updating this blog. Needless to say I'm very flattered to be featured and quite touched that they like my work. They're well worth checking out. Here's the link to buy a copy and don't forget to check out the rest of their site: Inspired Eye
Here's Don Springer's excellent website, well worth a browse: Streetshooter
And Olivier Duong's handsome website: F/8 Photographer
I met David Hurn; I took him out for lunch. I have to admit that upon meeting him I was a little terrified. The man is renowned for brutal candour, and here I was, a distinctly amateur photographer with delusions of adequacy, taking a Magnum photographer out for lunch on the orders of my overlords at Cardiff's Third Floor Gallery. What if he asked to see my photographs? This was the guy whose uncompromising frankness led to hard verdicts on those he considered second rate. Bill Jay, a good friend of David's, reported in his book 'On Being a Photographer' that David made a fast and brutal judgement upon flicking through his portfolio. "Derivative," he said, "You won't make it."
I was, to put it mildly, nervous. And yet the guy can't be all that terrifying, can he? I mean, Bill Jay's book was written in collaboration with David Hurn so he must have recovered quickly from that not-quite-shattering judgement of his. You see, this man is clearly the guy to go to if you want to learn about photography. David was a teacher of the medium for more than fifteen years at the Gwent School of Documentary Photography in Newport, an internationally renowned college. And he was a Magnum photographer, covering such events as the Hungarian Revolution of 1956. He also hung out with and photographed Heston and Jane Fonda and countless other luminaries of the 60's scene. And then there's that wonderful photo book he put out called 'Wales: Land of my Father'. So yes, his opinion is worth something. And it was certainly worthwhile for me to get over my nerves and talk to the man over a distinctly underwhelming pub meal.

Fortunately David Hurn isn't a culinary critic as well.

Even more fortunately, despite his formidable reputation, he is a delight to talk to. He certainly doesn't suffer fools gladly; but as long as you aren't one of those terrible art school bull-shitters, that you are aware that a photograph has to speak for itself, then you're fine.
Over a burger and chips, for the space of ninety minutes and amidst the genial banter, he taught me a few important lessons and questioned a few of my preconceptions. He kicked off by asking me how many photographs I take a year. I had no real idea but eight thousand seemed a valid figure. That satisfied him. He then asked me what I photographed. I mumbled something about small town America, US Civil War reenacting and... street photography.

The first two, subjects born out of love, he approved of - especially when I started raving about my hero Stephen Shore. The third, he bristled at. "What is street photography?" he asked and told me that I needed instead to photograph projects, target my images. If those projects took me out onto the street, all well and good. But he thought it a sin to trust in the luck of the random and suspected that street photography was there mainly for people to talk a big game and for magazines and camera companies to sell you shit. But he gave me some valuable advice on shooting a project. He told me that I shouldn't strain myself to draw forced connections between images and ideas. He suggested that I have a list of common objects in mind and work on them, and the concept and vision behind it would take care of itself. I have to say too, that it was a little bit of a guilty shallow-thrill too to find out that he shoots the same camera as I do... the X-Pro1 and the newer model of my X100, the X100s.

Yup. He's a great guy. Amusingly snarky too, especially about the photographer... ("Better not," - legal ed.)
Third Floor Gallery
What else? Third Floor Gallery is being relaunched. We've got four great exhibitions coming this year, starting with the immensely topical 'Shift: Ukraine in Crisis'. Not only does it cover the protests in Maidan Square through the work of ten award winning photographers. The opening is on Monday, May the 26th and the first exhibition runs until the 1st of June. You can find out more about it on TFG's shiny new website, here:
Make no mistake, Third Floor Gallery is going to be a pretty exciting place to visit this year. And it's all down to the hard work of Lukasz, Laura, Denise, Kiryl, Gaspare and above all the indefagitable Claire Kern. Here she is below, on the left, working on the website with Anne Siegel.
Oh, I also have a nice print for sale, A3 sized, to help raise money for the gallery. If you're interested in purchasing it please contact me through this website. If you want, you can also ask after any other images in my portfolio that take your fancy. This be the print:
St. Mary's on Match Day
Enough blather from me. I only want to add that this year I'm in the mind for shooting more but taking fewer photos, if that makes any sense. It's a year for projects and making prints too, and learning as much as I can in volunteering for the gallery. I leave you with a bundle of photographs that I took recently on and around St. Mary Street in Cardiff on a match day, Wales vs. France. Probably some of the most fun you can have in shooting photographs.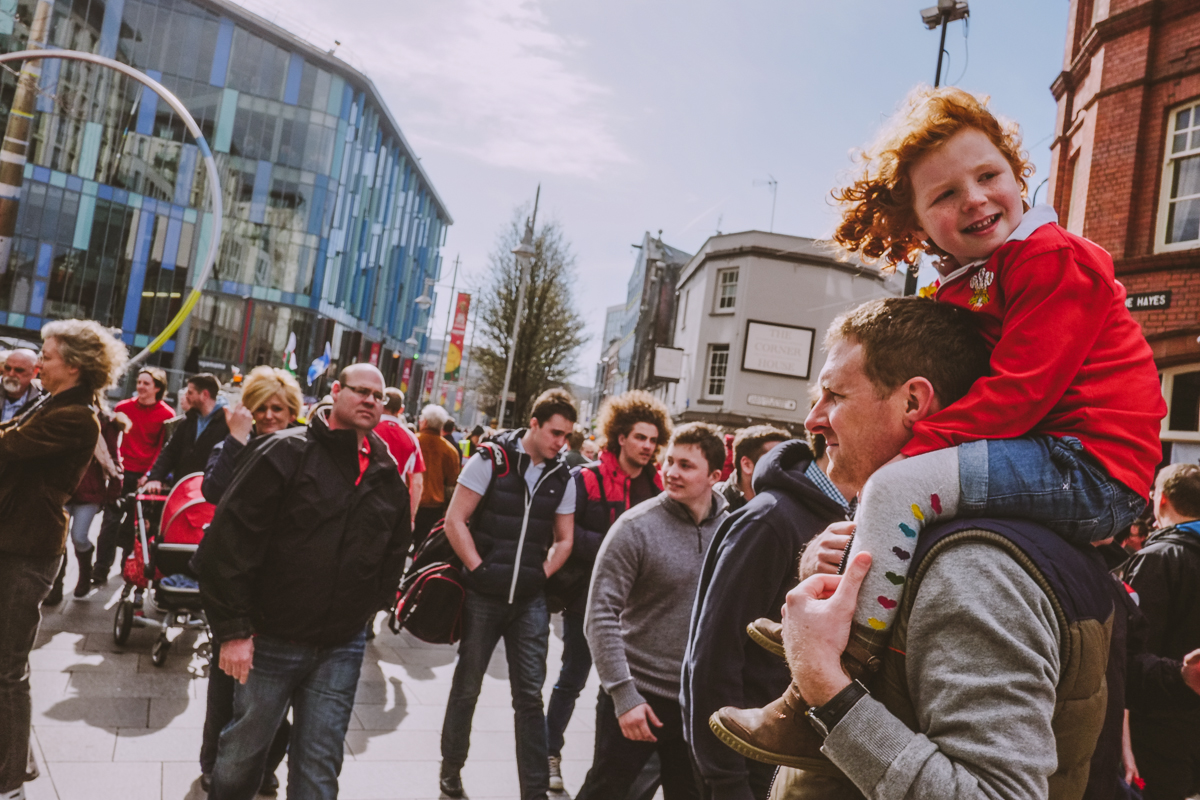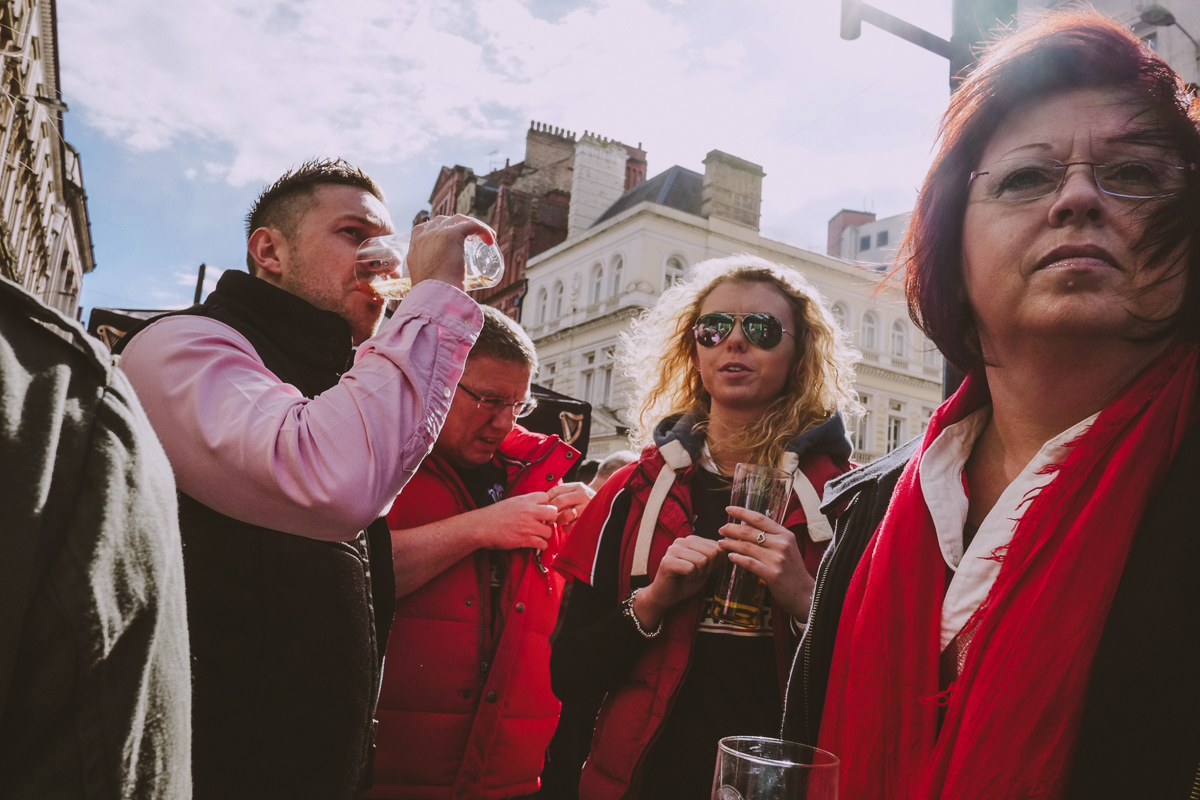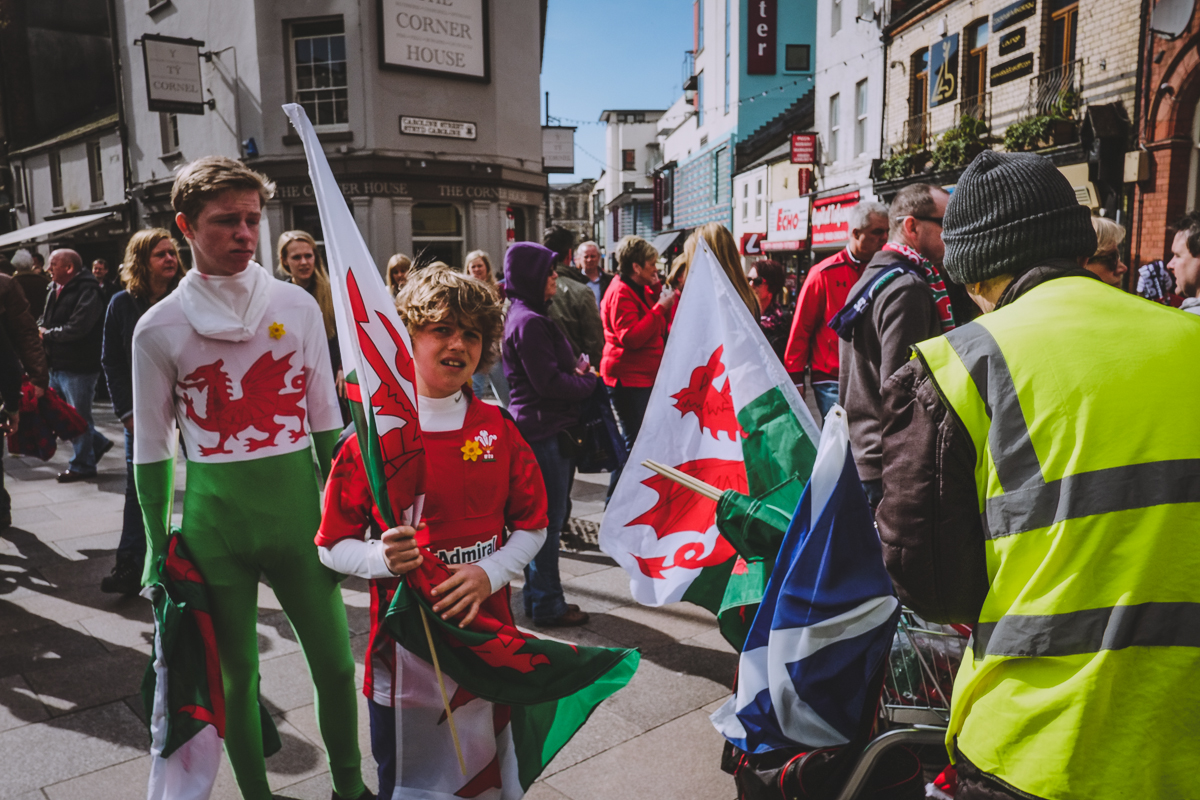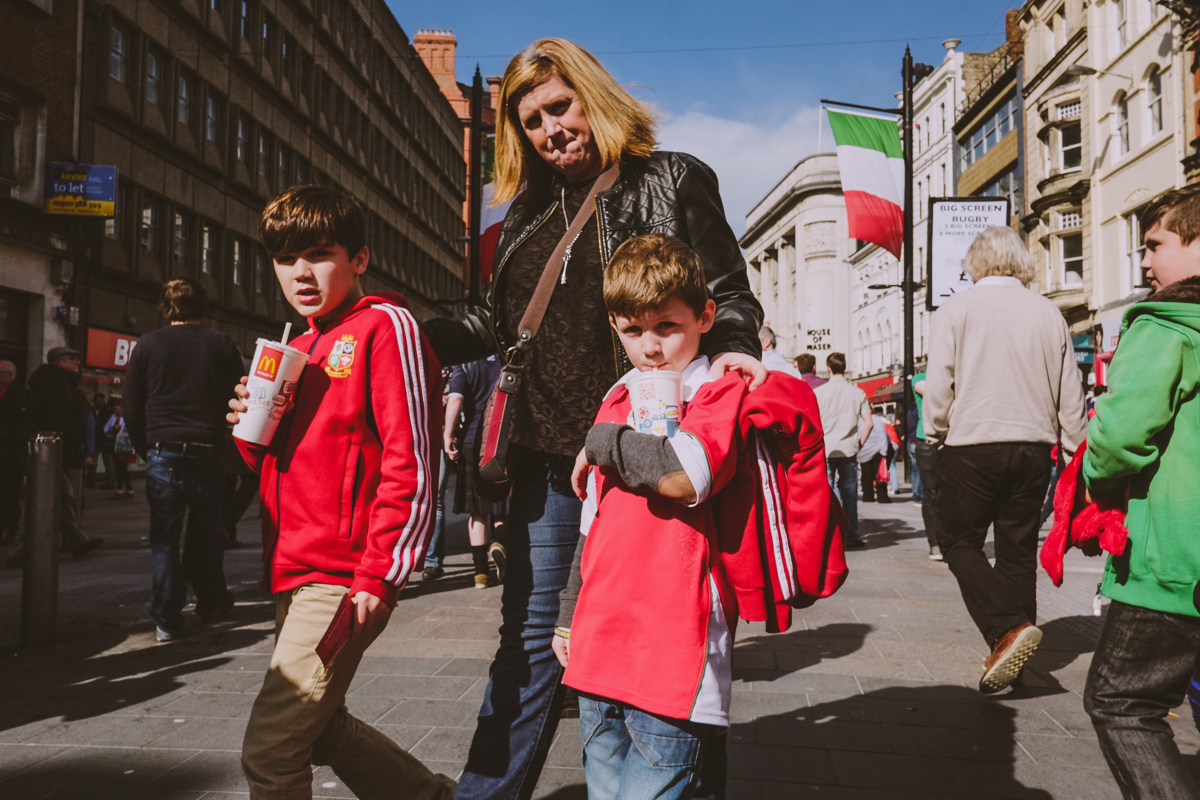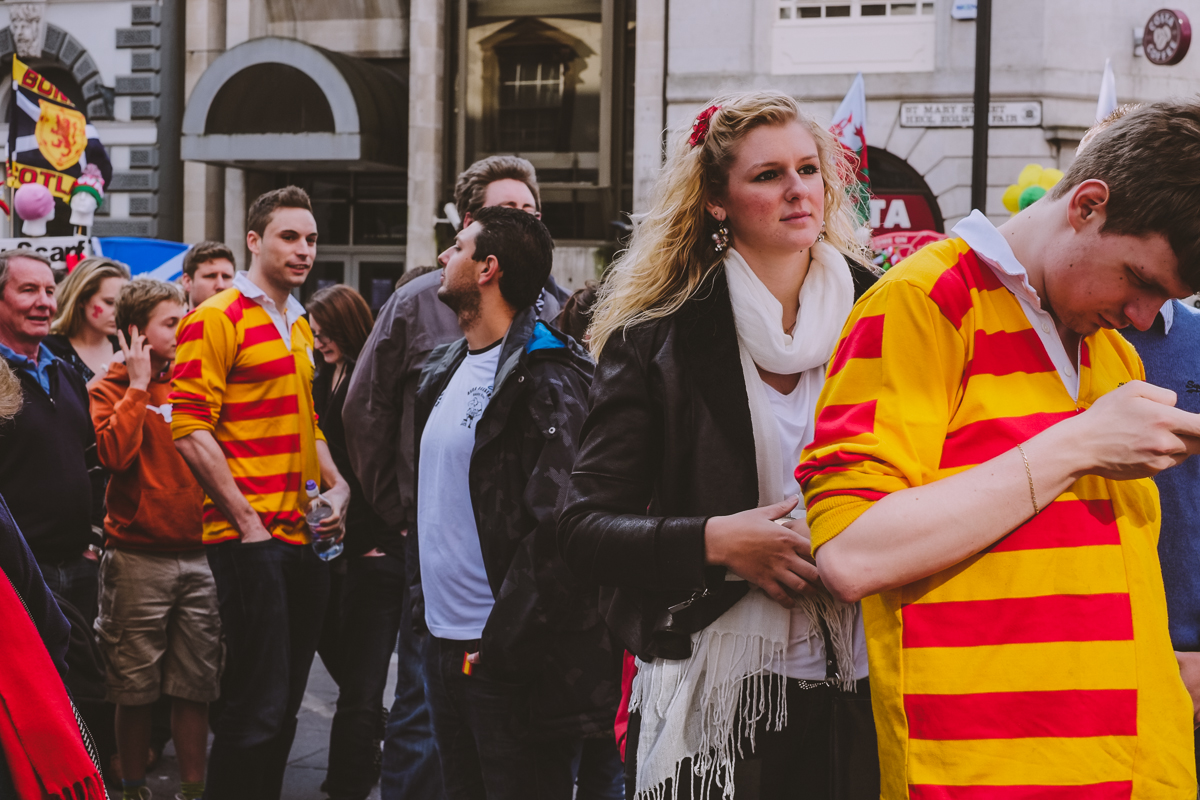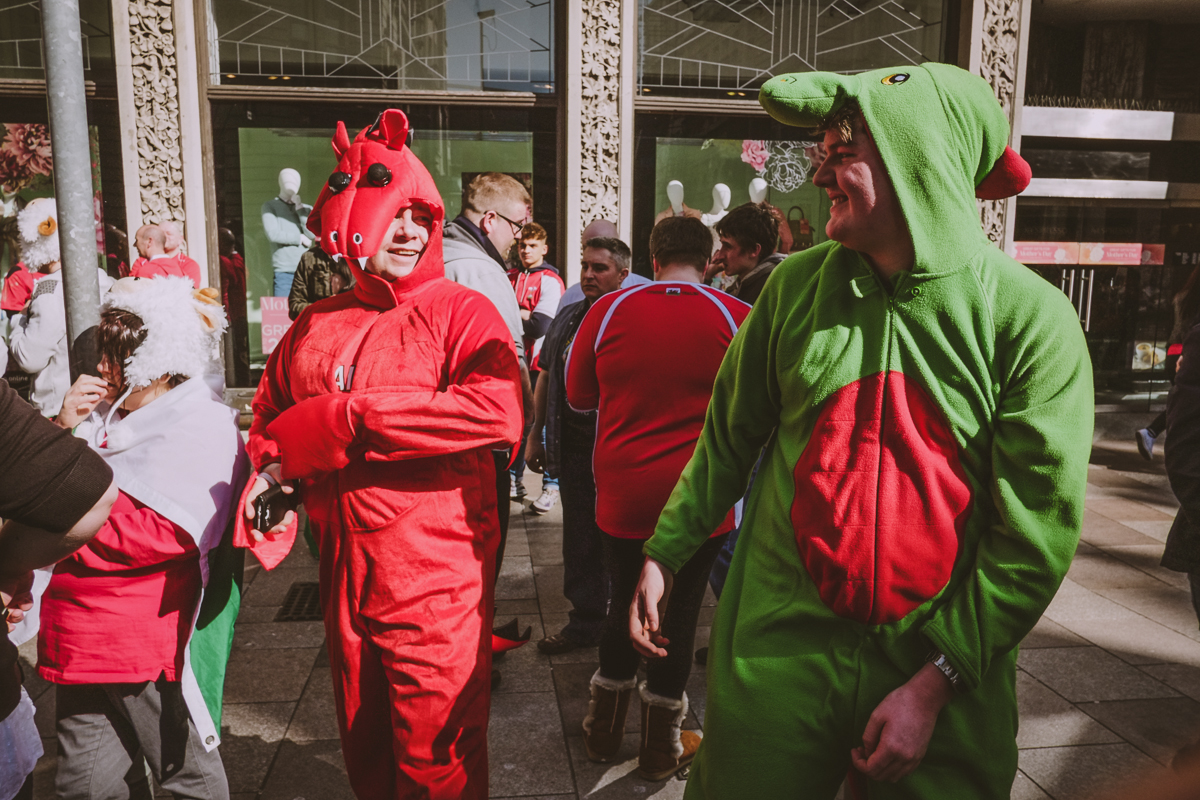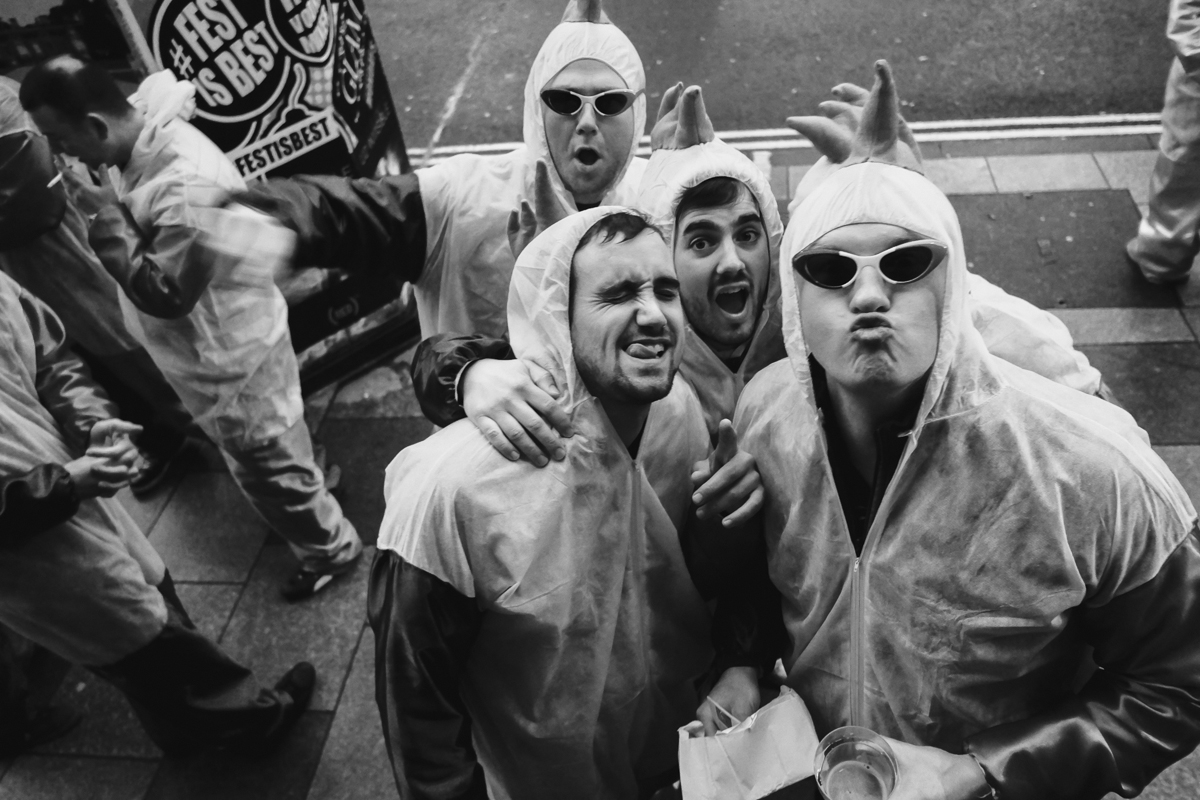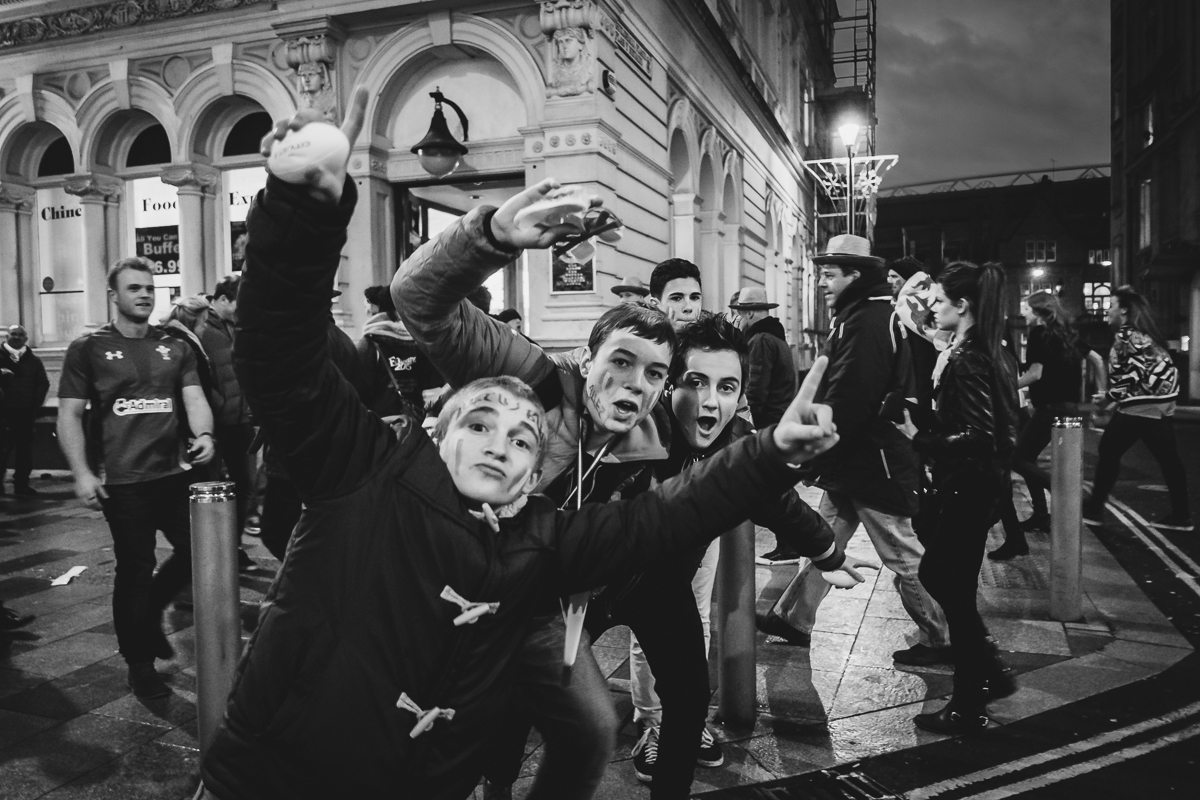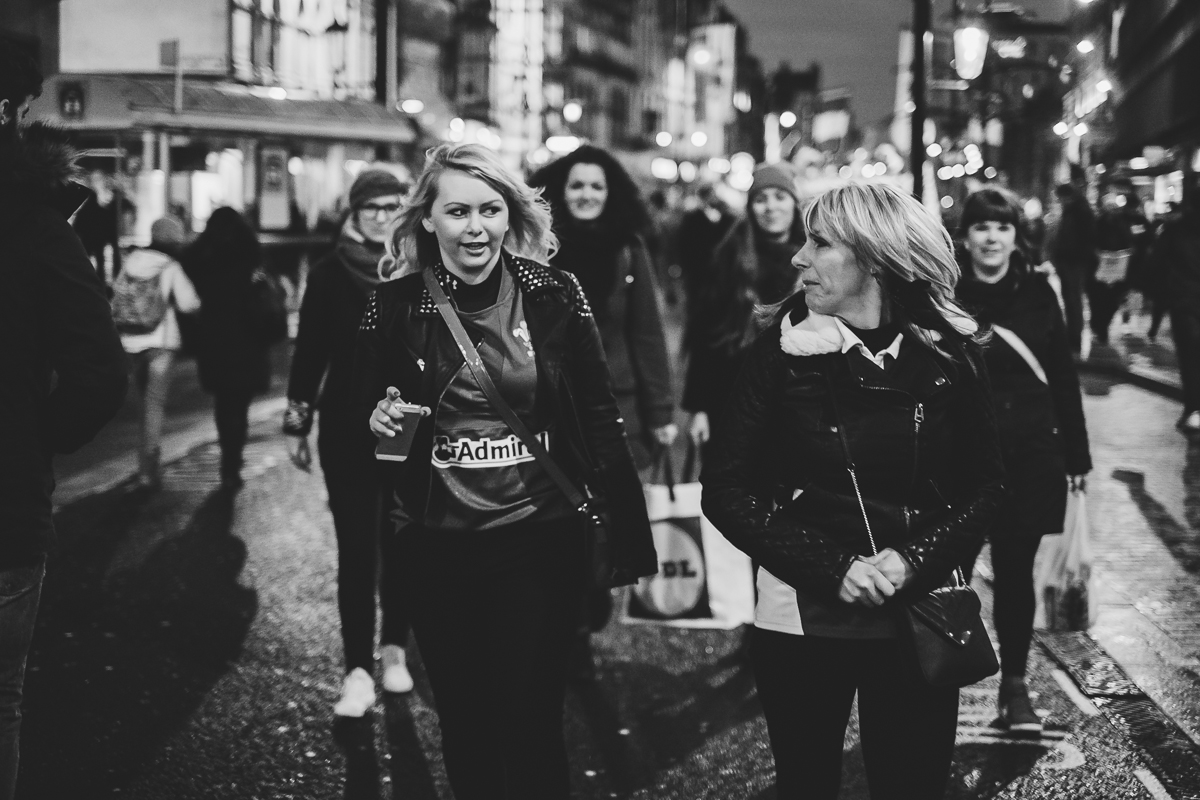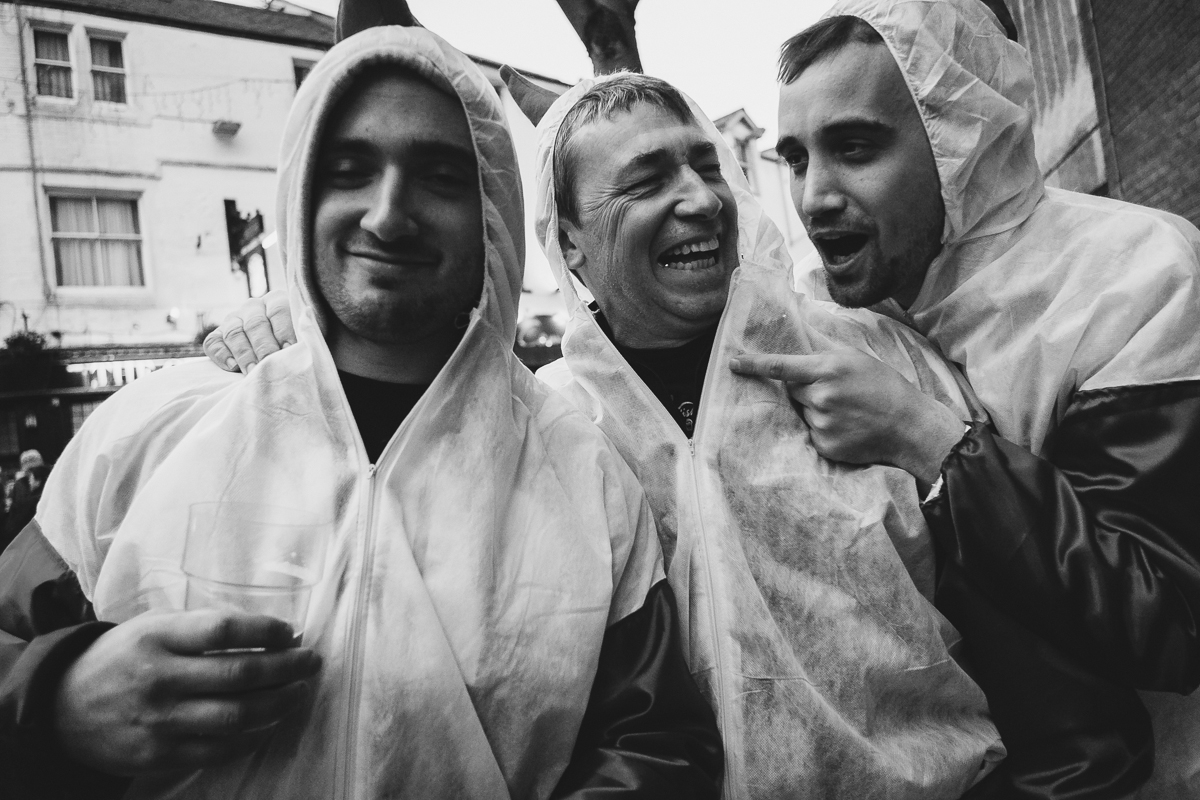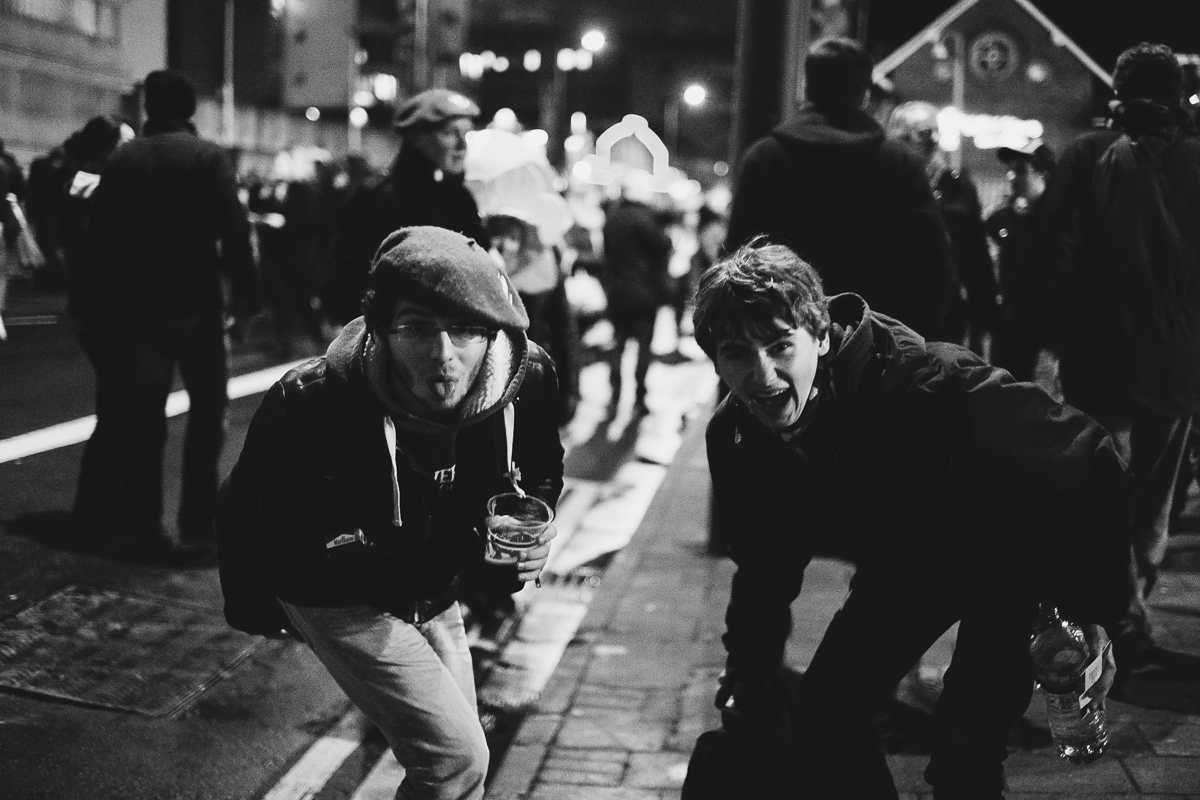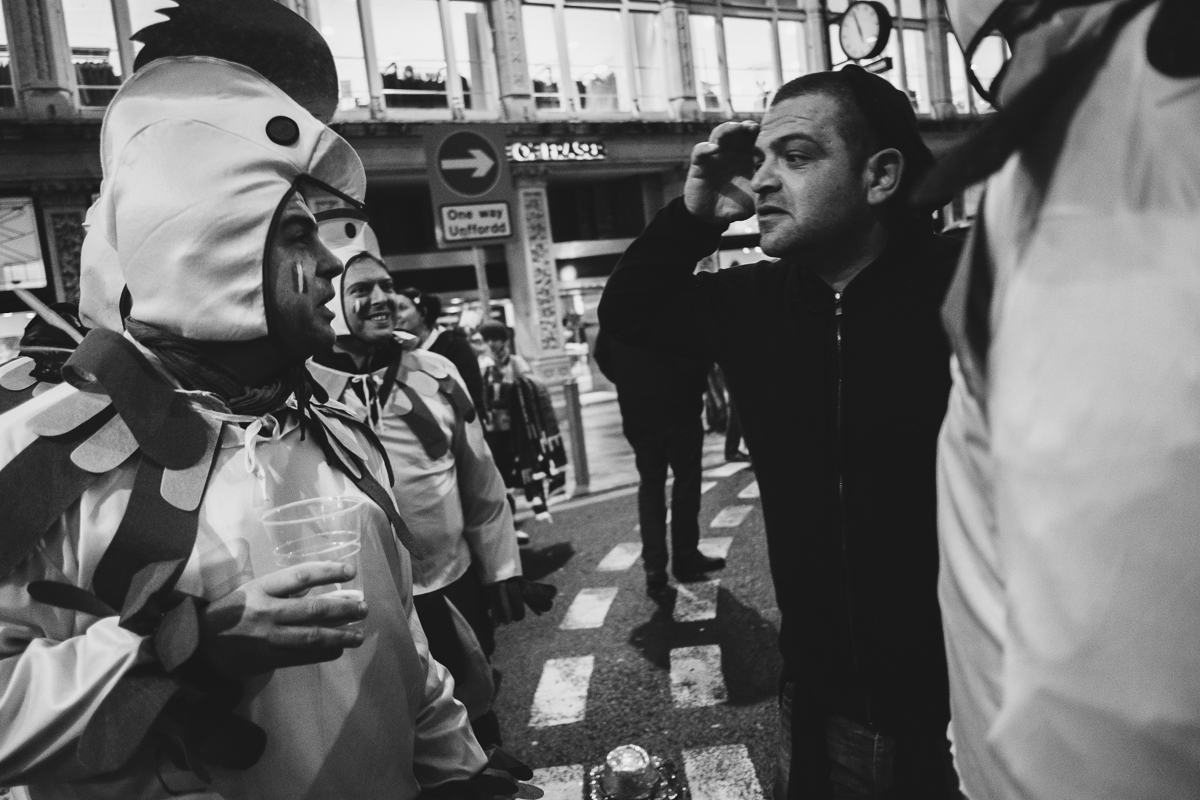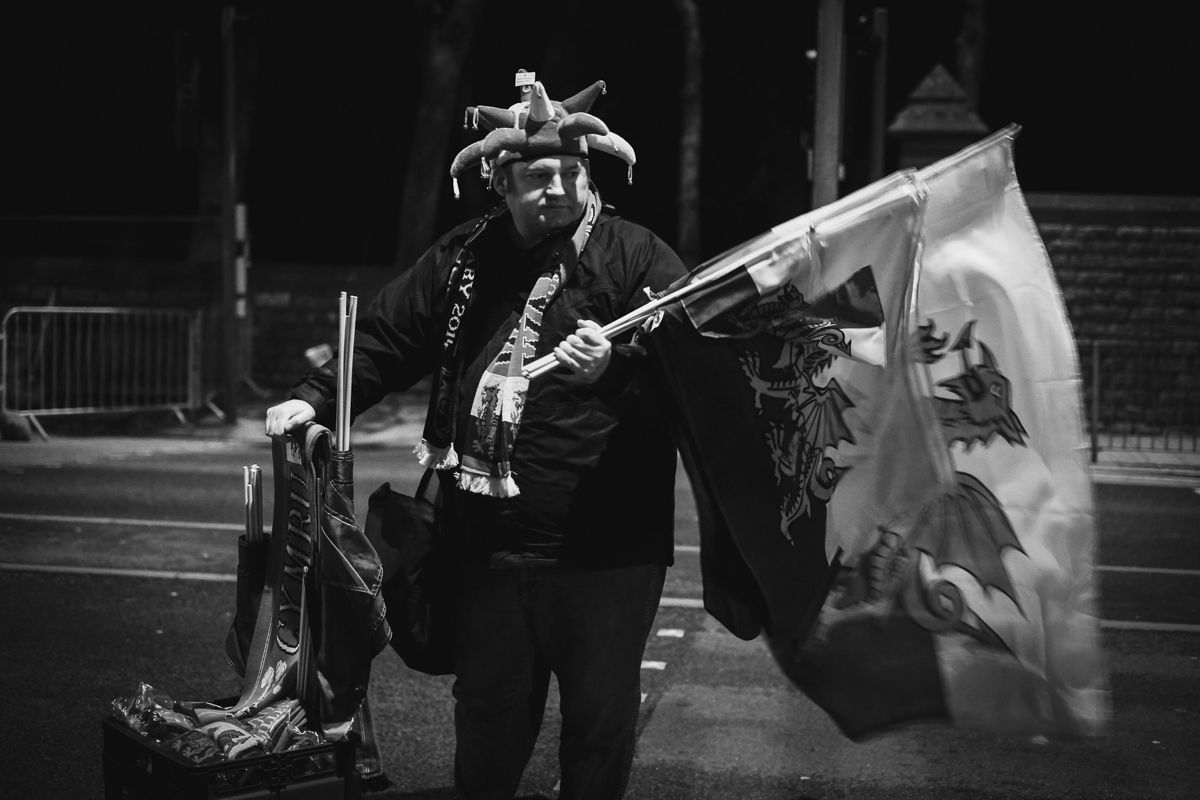 Next edition - Wales Goes Pop 2014 - soon as I whittle the hundreds of photos I took of the music festival. Oh God, why do I take so many?